Get removed your car with Car Removals Cranbourne and earn cash up to $8,000. We remove all kind of private and commercial vehicles and pay money right on the spot.
Car Removals Cranbourne has some of the best car removal services for you. We call our services to be the best in the entire suburb because no other company will offer you a completely free towing service. We not only cater within the suburb. But we also offer to remove cars from the neighboring areas of Cranbourne.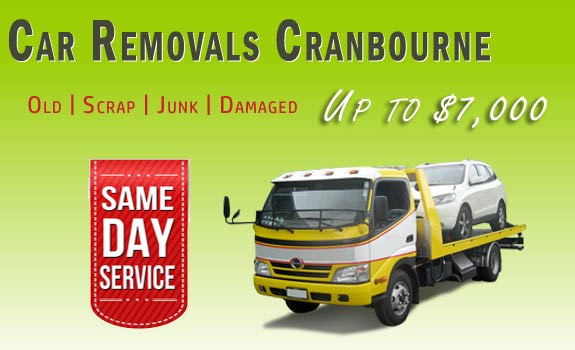 Our team pays you for your scrap, broke, flood-damaged, accident ridden and crashed cars on the spot. At the time of removal, we sometimes evaluate your car on the spot or sometimes give you a quote beforehand. We are equipped to tow all kinds of cars, trucks, 4wds, SUVs, UTEs, minivans etc.
We Remove Cars for Cash Cranbourne
We happen to be one of the very few used car buyers in Cranbourne that offer you instant cash payment. Our team of car removal experts come to pay you before they tow your car away. We assess it on the spot and if you prefer, we give you a cash quote beforehand as well. Our expert evaluations are always on point.
We offer no-obligation evaluations which means you can always go ahead and ask for any other offer that you think is better than ours. However, you will find our price to be the most reasonable. It will not only be the best cash offer, but it will also be one that you can receive on the spot.
At Car Removals Cranbourne, we buy cars without registration. So, you can return the plates and apply a refund in VicRoads.
Car Removals Cranbourne is Fully Licensed
Car Removals Cranbourne has an LMCT permit that authorizes us to remove any junk, unwanted, unregistered, accidental and flood-damaged car from anywhere in Cranbourne. Our team, in exchange for it, pays you cash as high as $7,000 right away.
Our assessments are on point and we give you better cash quotes other than the rest in Cranbourne. Our team of car removal experts take care of the entire process. We make sure to do the car removal in such a way that it causes you no hassle.
Old Car Removal in Cranbourne
People can remove any type of used or old car with us. With Car Removals Cranbourne, you will get free towing as well as removal. Our company will send our team to buy your car on the same day.
Scrap Cars Removed Cranbourne
If your car is damaged, junk, rusted or wreck then it comes in the scrap category. At Car Removals Cranbourne, we remove all sort of scrap cars, be it running or non-running. There will no charges that you have to pay after get cash for scrap car in Cranbourne.
Cash Payments Right on the Spot
We are the car removal company that offer on the spot cash payments right at the time of towing. We pay you full value of your car. Even if you choose a bank transfer, we do that on the same day as well.
It only makes sense to make a deal with the company that guarantees instant payments and same day junk car removal.
Call now to schedule a free same day junk car removal!
Contact Us Today to Remove a Car
We have a very simple form online that allows you to tell us all about you old and unwanted truck. Make sure to enter your full contact details in the form as well.
If you wish to speak to our experts you can always call our customer support helpline. Or email us to request a cash quote.